Temecula Wedding DJs Top 10 Most Requested Songs – A Guest Blog for Real Weddings of Temecula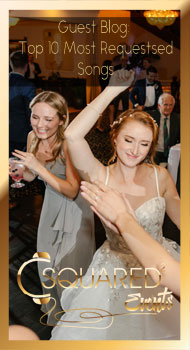 Our good friends over at Real Weddings of Temecula asked us to put together a list of the top ten most requested songs. The online planning system we use compiles a list of the top requested songs and has a list that you can look at. The list is updated often so the top spot changes all the time, for the longest time Don't Stop Believing held the top spot and proving that song fatigue is a thing, it is nowhere to be found. So here for you to enjoy is the post we made:

Top ten most requested songs

You are starting to think about songs for your wedding and you don't know where to start. It can be tough swimming in a sea of Spotify, Apple Music, Google Play and not knowing where to start. Fear not though below is the top ten most requested songs.

10.  You Shook Me All Night Long – AC/DC. Throw your metal hands in the air and get that head bobbing. This entry from the 1980's has been a staple on most request lists since it came out. The pounding drums and and guitar rifts have been causing guests to get out of their seat and on the dance floor for over 30 years.

9. Brown Eyed Girl – Van Morrison – "Here where did we go, Days when the rains came" Van Morrison knew what he was doing when he wrote this dance floor packer. The key to a popular song is to bring on the sense of nostalgia, take the guests back to their favorite time in life. Some remember fondly when this song was released, while other yearn for the days he sings about "Going down to the old mine with a transistor radio"

8. Happy – Pharrell – The moment this peace of bubble gum peppiness burst on to the music scene it had people bopping their head, because you have to. You can't hear this song and not get in a good mood. No matter what problems are bothering you this song reminds you to just be happy.

7. I Wanna Dance with Somebody (Who Loves Me) – Whitney Houston – Don't call it a comeback but this song from Whitney Houston's second studio release has started to show up on more and more request lists. Proof that a song is never really dead it merely waits for its turn in the pop culture merry go round.

6. I Gotta Feeling – Black Eyed Peas – There are a few songs that scream not only to be played at a wedding but played during the first set. You wouldn't end the night with "Get the Party Started". Tonight's, the night, to live it up so let the guests know that within the first few minutes of open dancing and wait for them to scream "Fill up my cup, Mazel Tov"

5. Wobble – V.I.C – There you have it 5 songs in and we get to our first of the Trilogy of "Wedding Dance Songs". If you were thinking of leaving the dance floor just back it up cause we are about "Wobble baby, wobble baby, wobble". The dance is relatively easy to do and can make even those with two left feet feel included in the fun. So throw those hands in the air twirl em in time.

4. Uptown Funk! – Marc Ronson feat. Bruno Mars – The most recent song in our list hit the second it was released. You could argue that just about any song with Bruno Mars should be on this list, but Uptown Funk! Is the only one to make the top ten (for now). This song sets the mood especially when it's Saturday night and you in the spot. Don't believe me. Just Watch.

3. Cha Cha Slide – Mr C. The Slide Man – The song that started the wedding song trilogy has not one but three different versions. Yup there is the original "Cha Cha Slide", then something new the Casper Slide part two and finally the Return of the Jedi of the slide song series the "Cha Cha Slide Part three. Just like that other triliogy the second is the best and the version you really want.

2. Sweet Caroline – Neil Diamond – Whether this song is a dance song or not depends upon the crowd and maybe their proximity to Boston where this song is sung along during Red Sox games. You can either play it towards the end of dinner to get everyone moving in their seats or you can play it as the last song of the night and then hit them with a killer encore and have guests leaving with Neils ode to long time love stuck in their heads.

1. Cupid Shuffle – Cupid – Released after the Cha Cha Slide the Cupid has eclipsed its older counterpart on this list of top ten most requested dance songs. It also is the easiest to learn, to the right, to the left and walk it by yourself. Released in 2007 Cupid has been a staple of wedding playlists from day one. Its combination of lyrics that tell you the moves and peppy beat and it is easy to see why this dance floor hit holds the top spot. Fun fact, the Cupid Shuffle kicked "Don't Stop Believing" off the top spot causing the latter to drop all the way out of the top 50.

There you have it the top ten most requested songs as compiled form requests from actual couples.
Where do these songs fit one your list?